Created with two adjustable straps to secure your device, and a non-slip flexible belt that you place between the mattresses where ever you like.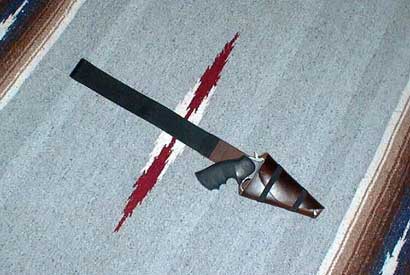 We have designed The Bedside holster for your self defense, to be used with mace, pepper spray, stunguns, Tasers, or pistols. It is your personal, bedside protection holster for self defense.

I once heard a story about a woman who had an intruder enter her home one night as she lay sleeping in her bed. She woke up to the sound of someone entering her room. She had no self defense. Before she could realize what was going on a man had control of her and forever changed her life. If she could have somehow been able to reach her personal protection, mace, gun, pepper spray, stungun or pistol, that was (less then three feet away) inside the drawer of the nightstand beside her bed, maybe this horrible nightmare could have been stopped or prevented all together. This is a story that stuck in my mind. I wanted to do something that would help prevent this from ever happening again to anyone else. So I created the "Bedside Holster".

We hope that you will never encounter a situation as described above. But unfortunately we do not live in a world without crime. With a Bedside holster you will feel more secure knowing your personal protection mace, gun, pepper spray, stungun or pistol will be handy, in case you ever need it! I used to work the night shift leaving my wife and children home alone, and still have to go out of town sometimes overnight. Now that my wife has a Bedside-holster we don't have to worry anymore.

Whether you choose a can of mace, pepper spray, high voltage stungun, Tasers, or pistol, you can now have it in a handy location where you can reach it, if you ever need it. It's great for self defense. Note: We would like to suggest that you never leave a personal protection mace, gun, pepper spray, stungun or pistol unattended when children are present. Always keep it in a safe place.

Designing the Bedside-Holster was not as easy as I Thought! I started designing "The Bedside holster" in the year 2000 in my spare time. During my trials I found that buckles would stick out and catch on things, plus the holes were never in the right spot. I tried using laces but they took to long to adjust, and it would never stay where I put it, and so on. After I worked through all the obstacles I finally created a Bedside holster that's easy to use and works great! Plus! It looks good and is affordable to buy and just what you need for self defense.